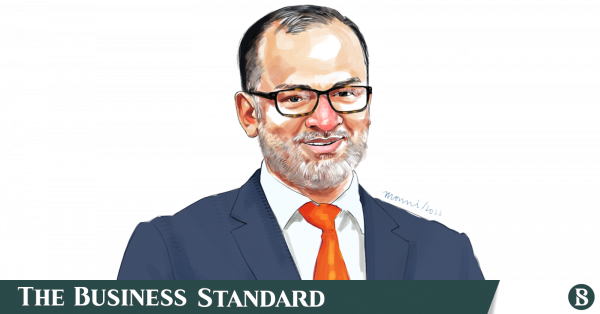 TBS News – A new net zero journey for new Akij breakaway
Former Akij Group MD Sheikh Bashir Uddin on Monday announced the creation of Akij Bashir Group, a mix of several Akij businesses and his own. The newly launched group aims at becoming a net zero-emission company. It also plans zero groundwater usage for its industries; for power, it would rely more on solar. Sheikh Bashir Uddin tells TBS Executive Editor Sharier Khan about his future plans for this large-scale offshoot.
Within this year, your Akij Bashir Group will install 40 megawatts of solar power in its various industrial units. You honed your skills in one of largest conglomerates in the country, Akij Group. You are also expected to launch a large glass factory in Sylhet having an investment of Tk1,500 crore. What are your plans with this new entity, Akij-Bashir Group?
My father founded the Akij Group in the early '50s. The company has grown reasonably large and very diverse over time. We are the second generation running it and the third generation getting prepared to join the force. The diversity and spectrum of the business require clustering certain units and requires respective leaders to run these clusters.
My father died in 2006. Subsequent to that, I took the responsibility of leading the group for about 18 years. In the course of time, my brothers have decided to create business clusters and take respective leaderships.
In its continuation, we are starting a business with a cluster and trying to expand the business. And it seems to us that there should be a specific identity with a change in ownership structure. And therefore, naming it has become crucial. In this reality we are starting the Akij-Bashir Group.
What kind of business do you have under the cluster?
Some legacy businesses which were part of the Akij Group include particle board business, ceramic business, and flexible film business. Besides, I had started my own journey (outside the group). We have acquired three jute companies. And also, as you know, we did a cross border acquisition in Malaysia. There we made medium density fibre (MDF) boards and we also made MDF floorings.
We also have started some business later like the paints and adhesive business, we have taken an MDF project in Bangladesh as we have a similar project in Malaysia, a bathware factory, a tableware factory. So, there will be a combination of new and legacy.
How are your jute mills doing?
All the jute mills we have acquired are private. We take no mill from the government. We are doing very well. When we acquired these companies, their collective business volume was about 39,000 tonnes. We hope this year we will reach 90,000 tonnes. This collectively makes us the single-biggest producing company in Bangladesh. In the efforts to diversify jute, we are the most diversified company in Bangladesh at the moment.
Have you applied scientific research in jute mills?
We have signed an agreement with the Department of Biochemistry of Dhaka University. We have about five PhD scholars working with us. We are investing heavily in jute seed, jute retting, processing, and microbiological components of jute through which jute fibre is strengthened, thereby making jute more lightweight, and affordable.
What is your ultimate objective on jute?
My family has been in the jute business for 75 years. Jute is one area that I was not involved in. I am kind of a new kid on the block. I am doing jute business personally with only two years of experience. I think it is truly a gold mine. But there is a lack of proper understanding in the industry. The absence of jute in the technological space is for too long, too much.
So we are trying to transform the industry. We are partnering with a lot of textile graduates, and textile institutes. We are trying to change the process concept.
Since I worked with my father for 17 years, I had been trained by him. My father believed in technology. In every industry he had invested in, he was always the technology leader in terms of process technology.
With that spirit and education that I got from my father's work, I am exploring the opportunities and avenues with that. And I can clearly see, this is paved with gold. The jute industry has a general notion that it is a sunset industry. Actually, it is going to be just the other way around.
But the mistake is in two places. It's a textile fibre and it's a commodity. So there are dreams, but the reality of the commodity industry must be taken into account. This industry should be designed with this realisation in mind.
And this is exactly what we are doing because my experience of building textile mills is also greatly helping me. Because when my father assigned me to build a textile company, and during those days this was one of the most advanced textile mills of that time. That thing helped me to transform the jute industry.
First, I set up an experimental jute mill in Comilla. And we are seeing reduced energy consumption, and reduced manpower. And if you are in the commodity industry, the basic science of the commodity industry is you have to keep your fixed cost as low as possible. So, the jute industry's primary problem is that the jute industries in Bangladesh are relatively small. If you look at the pre-independence jute mills, these were very large since inception.
Because, to reduce commodity industry fixed costs, you need to boost production. Decrease the fixed overhead rate. If somebody does that, the industry still has a great future.
How are your new businesses going on?
I returned from the world's biggest tableware fair in Frankfurt two weeks back. It was a mind-blowing response we have received as a one-year-old company. In the fair, a single order we negotiated was worth €14 million.
And we are the largest company in Bangladesh. To be the country's biggest tableware company in only one year, is just because of the great people of the company and the technology.
We were able to coordinate two things – jute is a commodity but tableware is an artisan product, just another around.
We have brought considerable innovation in tiles as well and we are continuing to innovate. As the first company in Bangladesh, we are exporting sanitaryware to England for three years.
What is your vision?
One is building the organisation's capability. To attain that it needs talents in the right places. And as I said that I was trained by my father and he has always worked with excellent people. And I am blessed with a lot of great people working for this company.
We have an opposite picture with jute and tableware. The demand for both these industries is very different and it needs to have the right people in the right place (to succeed).
Our vision is of course to become the most respected company in the country. That drives me. I never measure success with the amount of material wealth. I would measure success with the respect we get from society by adding value to their lives for solving problems.
How many employees are under Akij-Bashir Group?
Right now, 23,500-24,000 people are working. Our jute industry alone employs a lot of people– around 10,000 people in three different locations–Faridpur, Ghorashal and Cumilla. And we are also growing there. Tableware also employs a lot of people as it is reasonably people dependent.
And we also have some highly automated factories with state-of-the-art technology in our flexible film factory which needs very few workers. Our operation is technologically advanced.
Is any new venture under the new entity coming soon?
I have told you about the paints and adhesives business. Besides, right now we are trying to focus on setting our house in order, because you know that we are the legacy of my father, we have established a new identity in a new location, also in a new office. It seems to us that we will go a little bit slow for another two years and reserve enough energy so that we can make an appropriate investment.
So, if you asked what is coming, then one of the things that is coming is our glass factory. It is a large investment of around Tk1,500 crore in Habiganj.
This is a factory that will produce architectural glass used in buildings.
We have certain things that we always consider when we build factories. We prefer buildings which are circular and energy efficient. So, if you go to any of our projects, you will always see that we have fanatic people on conserving energy and using renewables.
We have always done it, as my father has insisted. Maybe that technology was not available in my father's time. We can use more technology now.
In terms of solar energy, we are going to generate 10-megawatt electricity there; plus a 3-mw plant using the heat produced by the glass melting process. In glass production, the compound of glass has to be melted at a temperature of about 1600-degrees and the chimney exhaust comes out at 600-degree. So it is a big loss of energy.
So we are producing steam out of the exhaust temperature of 600 degrees, then we are running a stream turbine and we are generating 3-megawatt power out of that.
We will use gas for the furnace as well. It's a fully redundant system, in the sense that, we have all kinds of arrangements like gas, furnace oil and diesel to run the furnace as it cannot be stopped.
Glass is a 24/7 operation. You can never stop it, because if you stop it for 10 minutes and the glass becomes solid in the furnace.
The working life of the furnace is 12 years. It cannot be shut down for maintenance. After 12 years the furnace can be stopped. And then another year will be needed to rebuild it.
What are your environmental goals?
With the target of becoming net zero, I am still not qualified to tell you how to reach or navigate this net zero path. I am actually going to join a seminar next week organised by a German house to learn by myself together with four of my colleagues to understand the navigation of net zero. But before understanding that, we are taking initiatives like zero discharge. That means, we will not discharge any kind of waste.
So, we have taken targets to be zero discharge company and a zero ground water company. Also our target for this year is to set up a 40MW renewable energy plant . Now we are operating with around 3.5MW. We have around 12mw under installation.
All are in our existing factories. In the industrial sector, we would be the largest industry on renewable. Our expected investment is around Tk200 crore on renewable energy.
Our jute mills already have zero discharge. We have appropriate ETP, WTP and this is large. Our dyeing plant is also reasonably large. We consume huge amounts of water and we feel responsible for it. And we had successfully made Zero discharge.
Still, we are using groundwater but we are trying to dig a pond. We are trying to store rainwater in ponds and then we will process that water in water treatment plants (WTP). These are the steps.
Will you be still making profit after spending for the green initiatives?
I used to run our food and beverage business when I started this. I think it was very rewarding. It paid for itself.
In 2007-2008, I invested Tk100 crore on that idea, and at that time the famous water company in France, Avian and we worked together. And we found it very rewarding.
The reason for doing this seems to me to be two things. We want to be a respected company and we feel responsible for the resources that we have been given.
At the same time, the regulatory requirements that are in place at the moment will become more stringent day by day. In preparation for that, we want to be ready in advance. so that we conform and comply with those.
Those of us who do business in the international market need good customers, and good customers need good supplies. So, it is a mutually beneficial proposition.