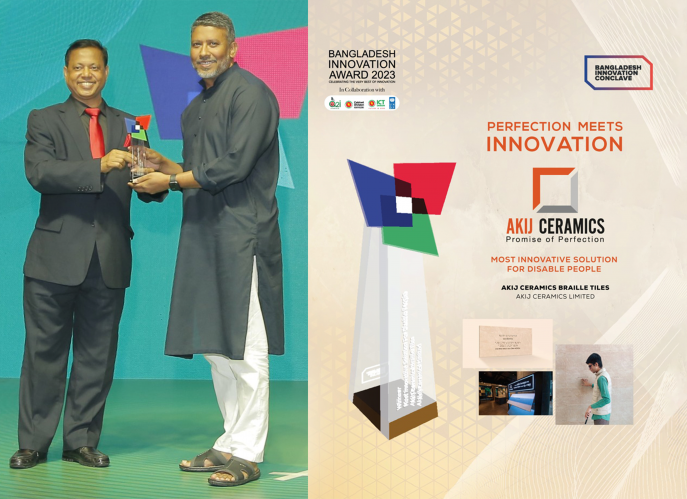 Akij Ceramics wins Bangladesh Innovation Award 2023
Akij Ceramics has marked its excellence in building the economy of Bangladesh through innovations, creations, and ideas.
Including Akij Ceramics, the 5th Bangladesh Innovation Award has recognized 49 innovations with 26 winners and 23 honorable mentions. Akij Ceramics won the award in the "Most Innovative Solution for Disabled People" category for its "Akij Ceramics Braille Tiles".
This product helps and allows visually impaired people to navigate spaces independently. By pursuing trendy lifestyles for all and innovations into the designs and surface textures of the products, Akij Ceramics actually has been selling aspirations to the end users, reads a press release.
This company is the consecutive winner of the Best Brand Award initiated by Bangladesh Brand Forum from the year of 2019 to 2022.
The number one tile brand in the country also has awarded as a Superbrand this year. And now the achievement of "Bangladesh Innovation Award 2023" takes Akij Ceramics another step forward.
On Saturday last (18 February), Mohammod Khourshed Alam, the Director of Sales and Marketing from Akij Ceramics received the trophy. This award got the hand of the State Minister of ICT Division, Zunaid Ahmed Palak. Bangladesh Innovation Conclave arranged the programme at the Ballroom, Le Méridien Dhaka.
Notably, from Akij Ceramics, the DGM Mohammed Ashraful Haque, Head of Brand Shahjada Yeasir Arafat Shuvo, Sr. Executive Anup Kumar Saha; Rosa Sanitaryware's head of sales Bishwajit Paul; Shahriar Zaman, Head of Marketing, AkijBashir Group; and the Brand Lead, ROSA Sanitaryware and Bathware, Golam Rabbani were also present at this grand event.